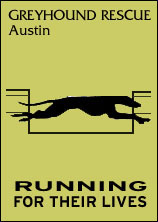 Greyhound Information and FAQ
Frequently asked questions about rescued greyhounds.
Informational links on the adopt-a-greyhound.com site regarding Greyhound history, points to consider in the decision-making process of adopting.
"In 1996, using a small private plane and with the help of volunteer pilots and co-pilots, Maggie McCurry began flying retired racing Greyhounds between Greyhound rescue organizations working at the Arizona race tracks and the outlying Greyhound adoption centers in the Los Angeles, Northern and Central California area. The requests for Greyhound flights grew and Wings for Greyhounds was incorporated as a non-profit entity."
"The lurcher is a silent hunting dog used for hunting and running down game. Usually a cross between a Greyhound (sometimes a Whippet or Saluki) and other breeds. The lurcher is not a breed of dog but a type, produced by customising the Greyhound to the specific needs of the lurcher owner."
"No matter how much or how long you train and teach your dog, there may come a point where their instincts will win over learned behavior."
Links to information on various sighthounds (Afghan Hound, Basenji, Borzoi, Greyhound, Ibizan Hound, Irish Wolfhound, Pharaoh Hound, Rhodesian Ridgeback, Saluki, Scottish Deerhound, Whippet)
Information manual for adopters
Greyhounds come in 18 official colors, but the variations are endless.
Information on what to do if a Greyhound is lost.