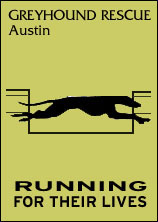 Greyhound Activism
Webpage by In Defense of Animals on Greyhound Racing and Horse Racing. The article points out how trainers circumvent laws, how seventy percent of the Greyhounds bred for racing do not become racers and end up in laboratories, used for breeding, or shot and destroyed. The article touches on the life the racers live, tells the reader how to protest racing and where to go to get more information.
Webpage by American Humane. Title of article is Animal Protection Services Policy Statement. Article mentions the cruel treatment and death of animal lures that are used in training Greyhounds, the suffering that the greyhounds endure and the fact that the majority of the unwanted racing dogs are destroyed.
A list, organized by date, of titles of articles in the press with links to the full article. The articles cover topics such as the inadequate care, poor housing conditions, unnecessary deaths and other areas of concern regarding the welfare and treatment of racing Greyhounds.
Article by the Greyhound Protection League dated July 11, 2005. Nearly one hundred underweight Greyhounds, infested with fleas and ticks were taken in a raid of an 'overflow' kennel that houses race dogs for the Tucson Greyhound Park.
Dec 2004 article by HSUS mentioning the HBO presentation of Real Sports with Bryant Gumbel which is looking into the "real" story behind Greyhound racing.
Assessment of the decline of the US and UK Greyhound racing industry.
Alabama man is charged with felony counts of animal cruelty for slaughter of thousands of Greyhounds.
Newsletter dealing with the issue of Greyhound welfare and the future of dog racing in the United States and its recent spread to Third World countries.
Varoious News Stories About Greyhound Racing
Article in the Las Vegas Sun about the racing industry and the impact felt by the dying interest in Greyhound racing.